Coffee and Chile Steak - It turned out very good but i think i could have cooked it a little longer.. Today I am sharing this Coffee and Chile Steak! A quick and easy dinner that is ready in under 35 minutes!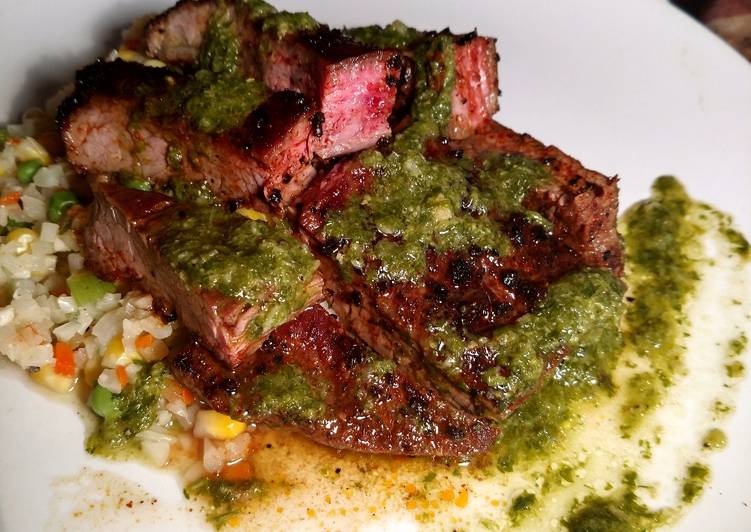 You can cook Coffee and Chile Steak with 9 Ingredients and 6 steps. See the following guide!
Ingredients for Coffee and Chile Steak:
1/2 of a Flank Steak, cut into 2 pieces (across the grain).
2-3 tablespoons ground coffee (I used Starbucks Anniversary Blend) (the grind is up to you, I went a little coarser).
2-3 tablespoons chili powder (I used ancho, but whatever you like will be fine).
3-4 teaspoons brown sugar (light or dark will be fine).
0.5 oz vegetable or canola oil (half of an average shot-glass).
The following herbs and spices are left up to you, to your tastes:.
cayenne, curry powder (SMALL AMOUNT), ground coriander, ground ginger, oregano, smoked paprika, salt and pepper, ground mustard.
ground cumin (extra points if you toast the mustard, coriander and cumin seeds, THEN grind them), small pinch of cocoa powder.
for the sauce: bunch of cilantro leaves, grated garlic and ginger, cayenne, olive oil, white wine vinegar, juice of 1/2 a lime.
Step by step how to cook Coffee and Chile Steak:
The morning you want to make this steak, mix together the coffee, chili powder, brown sugar, and ALL of the spices, and spread over the steaks, on both sides, and be generous. (You should have some rub left over, at least I did).
Place the steaks on a wire rack, on a plate with plenty of room to breathe and place in the fridge uncovered for 4-8 hours (it'll be fine, just make sure its as low and as far back as you can get it in the fridge).
30-60 minutes before you are ready to cook the steaks, take them out of the fridge to bring them close to room temperature (your steaks will thank you) preheat your oven to 400f and get started on the sauce..
In a mortar and pestle (or a food processor) mash the cilantro with a pinch of salt until completely ground. Add the garlic, ginger, and cayenne. Grind until incorporated. Add the olive oil, vinegar, and lime juice (you can split a shot glass half and half with the oil and vinegar) bring together into a cohesive 'sauce' and set aside..
Get a cast iron skillet very hot, carefully add your vegetable or canola oil, and carefully lay your steaks in. Sear for about a minute or two per side, then bake for 4-5 minutes depending on how done you like them. (medium rare is 120f internal).
Let rest for about 10 minutes, slice thick, drizzle with the sauce and any pan sauce that may have accumulated (assuming you don't sop it up with bread first), and serve with a few fingerling potatoes, or a small rice pilaf. (I did riced cauliflower with mixed vegetables and I hated it).