Zanzanit Misal Pav - Turned out great! Very moist.. Today I am sharing this Zanzanit Misal Pav! A quick and easy dinner that is ready in under 35 minutes!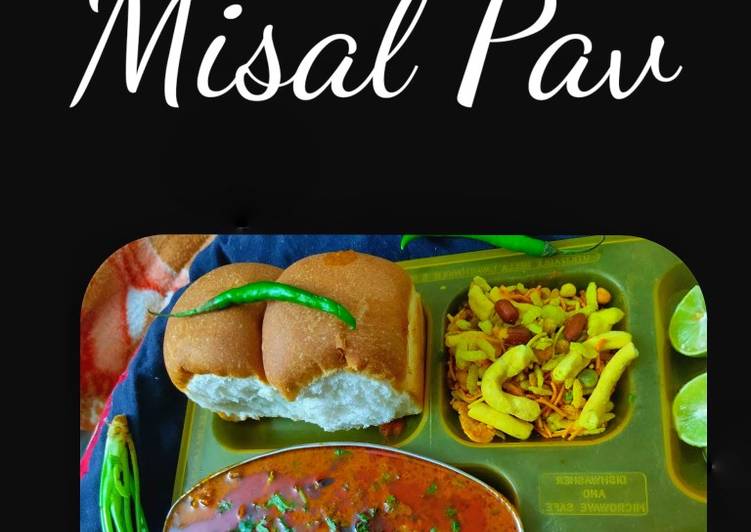 You can cook Zanzanit Misal Pav with 41 Ingredients and 44 steps. See the following guide!
Ingredients for Zanzanit Misal Pav:
2 cups Sprouted moth(Matki) beans.
6 cups water.
to taste Salt.
1/2 tsp turmeric powder.
For masala / spices.
2 tbsp coriander seeds.
2 tbsp cumin seeds.
2 tbsp sesame Seeds.
1 inch cinnamon.
10 pieces cloves.
2 stone flower.
1/2 tsp pepper corn.
1 star anise.
1 tsp Saunf.
1/2 tsp oil.
1/4 cup desiccated Coconut.
4-5 tbsp red chilli Kashmiri.
Blend with 1/4 cup coriander leaves water.
For Matki chi Usal.
1 tbsp oil.
1/2 tsp Mustard seeds.
1/2 tsp cumin seeds.
1 spring curry leaves.
to taste Salt.
1 tbsp ginger paste.
2 tbsp coriander leaves.
For Rasa and Kat together.
4 tbsp oil together.
1 tsp Mustard seeds.
1/2 tsp cumin seeds.
1 spring curry leaves.
2 tbsp Kashmiri red chilli powder.
1/2 tsp ginger paste.
1 tbsp coriander leaves.
1/2 chopped tomato.
1 small piece of jaggery.
For serving.
Farsan.
Chopped coriander.
Nylon sev.
Pav.
Step by step how to cook Zanzanit Misal Pav:
Rinse 2 cups of moth beans Sprouts first in running water.
Drain the sprouts very well and add them into the pressure cooker..
Add some salt and turmeric powder. Add enough water.
Pressure cook for 1 to 2 whistle on a medium flame..
Measures and keep all the spices ready. (Which mentioned in ingredients).
Set a wok on medium flame and put all species together..
Roast all the spices together for 2 minutes..
Now add desiccated Coconut and red chilli powder and again roast it for 3 to 4 minutes..
Keep aside for cooling..
Now take a mixer jar and add roasted spices and add fresh coriander leaves and some salt and water..
Grind them well..
The texture of spices paste should be medium. Keep aside..
Now open the pressure cooker.
Drain the water from moth beans in a bowl.
Don't throw this water. Keep aside for later use. As this is very healthy..
Now let's make the Usal. It's basically a matki or moth sabzi..
Now heat a pan and put some oil, add mustard seeds, cumin seeds, curry leaves and ginger paste. Saute for half a minute..
Add 1/3 part of the roasted spices paste..
Add 1 chopped tomato.
Now roast for 2 minutes..
Now add moth beans which we boiled. Add coriander leaves and start mixing well. Turn off the stove we don't want to overcook it..
The Usal is ready..
Now make to Rasa and Kat together..
Kat is basically the oil with Which is garnished..
Add 4 tbsp of oil in a pan..
I know it's lots of oil but usually there is much more oil added in Misal.
Add mustard seeds, cumins seeds, curry leaves 1/2 chopped tomato and kashimiri red chilli powder..
Cook this for 2 minutes..
Now add ginger paste, chopped coriander and add roasted spices paste which we used 1/3 for Usal.
Now mix well altogether and cook for 2 minutes more..
Add salt as per the taste. Add some jaggery to balance out the spicynes..
Now add moth beans water which we already kept aside..
Stri it well. And cover with lid..
Boil it for 10 minutes..
Ahha the kat and Rasa is ready now..
Now take one bowl and take this kat out in that..
Let's Assemble all the things..
Take a serving plate and also one plate for Usal and Rasa..
Farsan is the key ingredient for Misal Pav..
Usal is our matki or moth beans basically the sabzi we made..
Now serve. Take bowl and add 3 spoon of Usal, add some chopped tomato, add Rasa. Now top it with some farsan. (don't put early as it will get soggy). Garnishing with some nylon sev and coriander leaves..
At last add the Kat (Taari). Keep some farsan in plate too..
Some chopped tomato and lemon slice..
The Misal Pav is ready. It's very super tasty spicy dish..