Lumpiang Hubad - Naked Spring Roll - Lumpia Filling - Turned out great! Very moist.. Today I am sharing this Lumpiang Hubad - Naked Spring Roll - Lumpia Filling! A quick and easy dinner that is ready in under 45 minutes!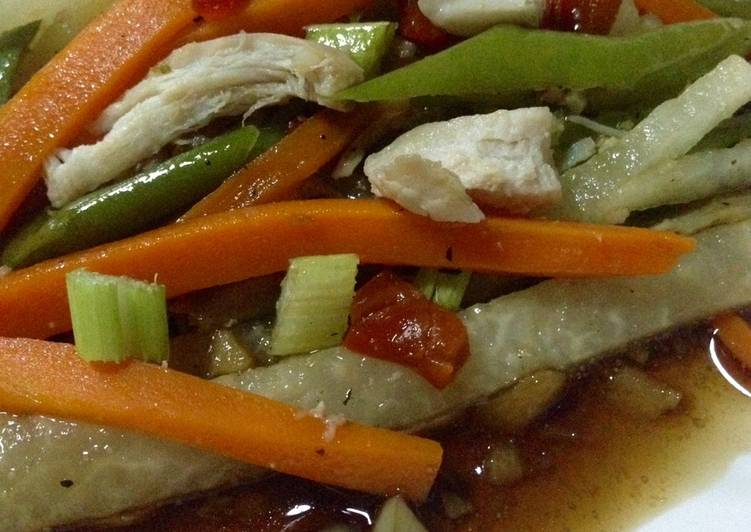 You can cook Lumpiang Hubad - Naked Spring Roll - Lumpia Filling with 18 Ingredients and 9 steps. See the following guide!
Ingredients for Lumpiang Hubad - Naked Spring Roll - Lumpia Filling:
3 chicken breasts, boiled with spices, cubed or pulled apart.
1.5-2 pcs small red onions, sliced into thin halfmoons.
1 big handful of green beans or French beans, sliced into 3s.
1 medium Singkamas (Jicama, root crop), cut into thick matchsticks.
1 medium Carrot, cut into thick matchsticks.
1 whole garlic head, minced.
3 medium bay leaves (for boiling chicken).
to taste Salt and Pepper.
1/2 Chicken bullion or broth cube.
1 Celery Stalk, sliced.
1 red bell pepper (optional), diced.
1 long chili (optional).
3/4 c water.
2 Tbsp Cooking oil, use regular spoon.
3-4 Tbsp Soy Sauce, use regular spoon.
3 Tbsp sugar, use regular spoon.
6-8 Tbsp chicken broth, use regular spoon.
2 tsp cornstarch, use regular teaspoon.
Step by step how to cook Lumpiang Hubad - Naked Spring Roll - Lumpia Filling:
After prep of veggies, cutting & slicing.... boil chicken in water, put enough water to cover the chicken in sauce pan. Add bay leaves, 1/2 or 1 onion, 3 crushed garlic cloves, sliced ginger, salt & pepper (to taste) and 1/4 chicken broth cube. Boil 15-20 minutes, depending on size / quantity of your chicken. For me, I prefer with bones and skin, as it is just tastier. :) Tip:. Since you are boiling the chicken, why not create a chicken broth soup with vegetables as well. Just get some leafy green veggies in your fridge. I added some sliced Taiwan pechay or bok choy, leek leaves + ends, Chinese cabbage or cabbage is good too, chicken skin from breasts (if any), a few pcs wansoy or coriander leaves (add at the end). And voila, now you have a delicious veggie broth as well!.
Once chicken is cooked, remove from the pot and set the broth aside. Cube, dice, or pull apart chicken meat in desired bite sizes..
In a wok, heat oil, saute remaining sliced onions, minced garlic (about 3 cloves), and pinch of minced ginger. Before the garlic browns, once the onions are translucent and oil has been absorbed, add 2 spoonfuls of the broth. Simmer a few seconds..
Add the sliced green beans in wok, stir. Add 2 more spoonful of broth and cover 3 minutes..
When green beans are half cooked, add chicken pieces and 2 more spoons of broth. Stir. Add the jicama or singkamas. Use spatula to move these under in the wok. After 2 minutes add the carrots. Add 2 more spoons of broth if it has dried. Mix well and cover until almost cooked through..
Season with salt and pepper, to taste, sprinkle remaining chicken bullion broth cube, to desired taste. If it's too dry, add a spoon of the broth. Add heat or spicy taste with diced bell pepper or chili, if desired. Mix well. Transfer to a serving plate. Top with diced celery stalk. Set aside and prepare the sauce..
SAUCE RECIPE- in same wok, add 1/2 c water, drop in half of the remaining minced garlic. Simmer a few minutes. Add the 3 regular spoonful of soy sauce. Use whatever you have, you can always adjust with water or sugar if it's too salty. Add the sugar. Mix well. Taste and add the rest of the garlic if it is lacking in garlic flavour. There should be a balance of salty, sweet and garlicky flavour. Add a little more sugar if you prefer more sweeter than salty..
When you get the taste you like- In 1/4 c remaining water, mix in 2 regular teaspoons (not heaping) of cornstarch. Dissolve well. Add to wok. Stir well. Let it simmer until it becomes syrupy..
Sauce is ready when it is like syrup. I used brown sugar so my sauce appears darker. My soy sauce was also dark. If you use white sugar and lighter color soy sauce, it will appear like caramel in color. This is okay too. What matters is the taste. :) Serve sauce on the side- to be spooned over the veggie-chicken mix. Some people like a little sauce, as for me, I like a lot :).