Kat's Mindblowing Fried Rice - It was delicious !!!!! Easy to make and a crowd pleaser !!!. Today I am sharing this Kat's Mindblowing Fried Rice! A quick and easy dinner that is ready in under 40 minutes!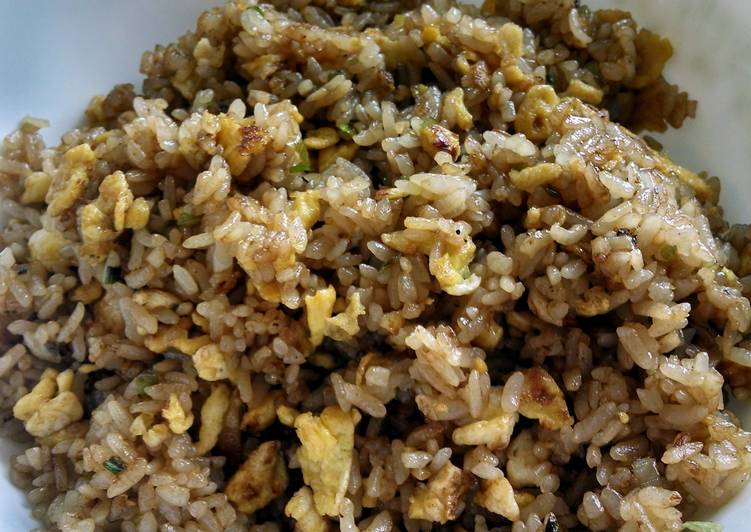 You can cook Kat's Mindblowing Fried Rice with 8 Ingredients and 11 steps. See the following guide!
Ingredients for Kat's Mindblowing Fried Rice:
2 cup cooked white rice, cold and preferably made beforehand.
2 eggs.
2 clove garlic.
1 green onion (scallion).
1 tsp soy sauce.
1 tbsp oyster sauce.
1/2 tsp sugar.
3 1/2 tsp oil.
Step by step how to cook Kat's Mindblowing Fried Rice:
Finely chop garlic and chop green onion. Set aside..
Break two eggs and beat in a separate bowl with a pinch of salt..
To a wok or skillet on medium heat, add 1.5 teaspoons of oil (or however much oil is needed to lightly coat the skillet) and add beaten eggs..
Scramble eggs until solid and firm. Remove from wok or skillet, chop into small pieces, and set aside..
To the same wok or skillet, add the remaining 2 teaspoons of oil over medium-high heat. Add chopped garlic and green onion and cook for 20-30 seconds, stirring frequently with a spatula. Be careful not to burn the garlic..
When the garlic and green onions are fragrant, add the cold rice to the wok or skillet. Stir frequently and break up any clumps of rice..
When the rice has been cooking for a few minutes, add the soy sauce, oyster sauce, and sugar. Stir to coat rice evenly..
Add scrambled egg to the rice and stir to combine..
Taste the rice for seasoning. If it's not salty enough, add more oyster sauce. If it's too salty, add a little more sugar..
When rice is golden brown and just slightly charred, remove the wok or skillet from the heat and serve!.
Note: This is a basic fried rice dish. You can add any of your favorite veggies, meat, or seafood. The trick is to cook them before you fry the rice, and add them in at the end. This works great for leftovers!.