Tortilla Española - . Today I am sharing this Tortilla Española! A quick and easy dinner that is ready in under 30 minutes!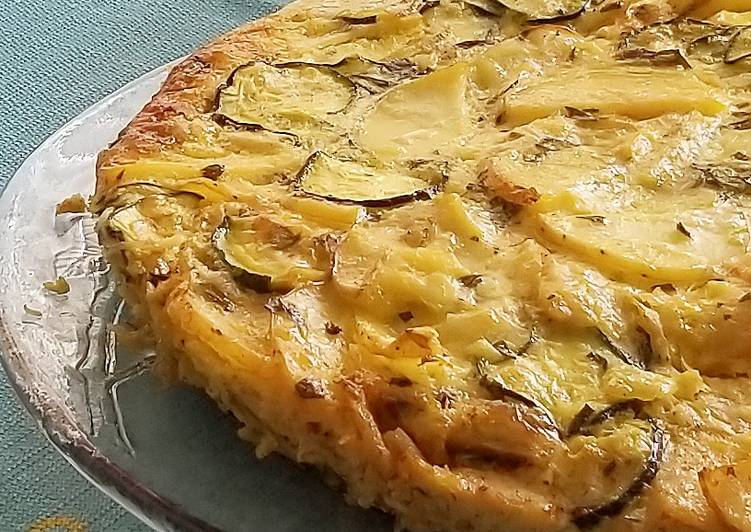 You can cook Tortilla Española with 9 Ingredients and 5 steps. See the following guide!
Ingredients for Tortilla Española:
1 lb zucchini (about 2 medium), cut into 1/8" thick slices.
2 teaspoons coarse salt.
1 1/4 cups extra virgin olive oil.
2 lbs Yukon Gold potatoes (about 6), scrubbed & sliced 1/8" thick.
1 large Spanish onion, sliced 1/8" thick.
10 large eggs.
1 cup finely grated Parmigiano-Reggiano cheese.
1 cup fresh basil leaves, chopped.
Romesco sauce for serving (optional).
Step by step how to cook Tortilla Española:
In a colander set over a bowl, toss zucchini with salt. Let drain for 30 minutes, pressing on the zucchini a few times to remove excess moisture..
Meanwhile, heat 1 cup of oil in a 12" ovenproof skillet (preferably cast-iron) over high. Add potatoes and onion; reduce heat to low. Cook, stirring occasionally and scraping up browned bits from bottom of pan, until potatoes are tender but not taking on any color 30-35 minutes..
Add zucchini; cook, stirring occasionally, until tender, 12-15 minutes. Transfer mixture to colander; let drain 5 minutes, gently stirring occasionally. In a large bowl, whisk together eggs, cheese and basil; then stir in potato mixture..
Preheat oven to 425°F. Wipe skillet clean, making sure to remove any browned bits. Heat remaining 1/4 cup oil in skillet over high until shimmering. Add egg mixture and reduce heat to low. Cook, running a flexible spatula around sides occasionally to prevent eggs from sticking, until edges begin to set, about 10 minutes..
Transfer skillet to oven. Bake until center is set and edges are golden brown, about 12 minutes. Let cool 5 minutes. Run a knife around edges to loosen, then invert onto a wire rack. Using a large spatula, flip tortilla back over; let cool completely. To serve, cut tortilla into wedges and top with romesco sauce..