Mike's Creamy Potato Egg Salad - . Today I am sharing this Mike's Creamy Potato Egg Salad! A quick and easy dinner that is ready in under 40 minutes!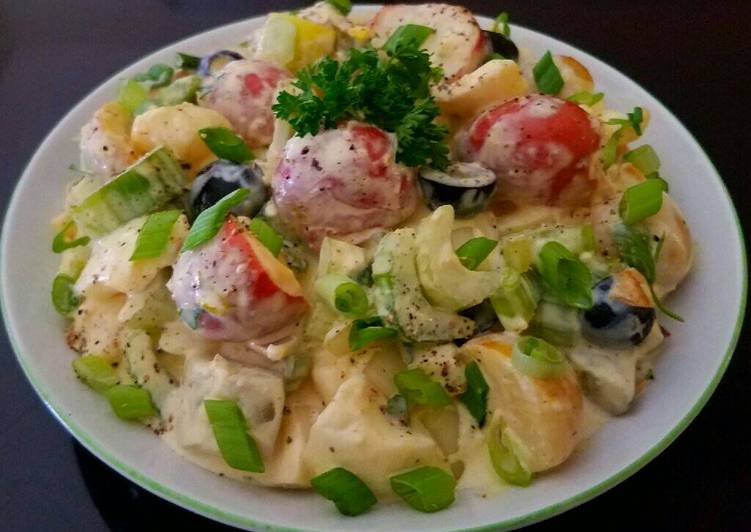 You can cook Mike's Creamy Potato Egg Salad with 20 Ingredients and 13 steps. See the following guide!
Ingredients for Mike's Creamy Potato Egg Salad:
● For The Proteins.
18 Egglands Best Eggs [use older eggs - they're easier to peel].
● For The Potatoes.
3 Pounds Baby Creamer Potatoes [both red & white - left whole].
● For The Fresh Vegetables [all chilled & rough chopped].
1 EX LG Vidalia Onion.
2 Green Onion Lengths [+ reserves for garnish].
1/3 Cup Red Onions.
4 Stalks Celery [with leaves].
8 LG Claussens Dill Pickles [found in MKT refrigerated section].
1 Can LG Black Olives [halved].
1/3 Cup Fresh Parsley Leaves.
● For The Cream Sauce [whisk well].
1 (30 oz) Jar Kraft Real Mayonnaise.
1/2 tsp Fresh Ground Black Pepper.
1/3 Cup Fresh Sour Cream.
2 tbsp Yellow Mustard.
1 1/4 Cup Whole Milk [more if needed].
1 tsp Celery Seed.
1 tsp Celery Salt.
Step by step how to cook Mike's Creamy Potato Egg Salad:
Here's the bulk of what you'll need in steps #1 and #2..
Additional ingredients needed..
Rinse unpeeled baby potatoes well. Place in large pot and boil for 10 to 13 minutes..
Boil your eggs by bringing room temp eggs to a steady boil. Turn off burner, cover pot and allow eggs to sit undisturbed for 18 minutes. At 18 minutes, immediately rinse your eggs in cold water to arrest the cooking process. About 10 minutes. Refill your pot with fresh cold water if needed. If any egg floats, throw it away..
Drain your potatoes and allow them to cool a bit..
Once cooled, slice all potatoes in half. Place in a large pot and again, allow to cool longer..
In the meantime, chop your chilled vegetables and mix together well..
Quite possibly the best chilled dill pickle brand ever! Definitely worth your money and seriously makes this dish! This is the only brand I'll ever use. In fact, if I don't have them on hand, I won't make the recipe it calls for..
Peel and quarter your eggs. Allow them to cool covered..
Gently mix all chopped vegetables and cooled eggs together..
Mix your chilled cream sauce. Whisk well..
Gently fold everything together in an extra large bowl. Refrigerate for 6 hours or longer stirring occasionally. I'll let mine sit for 24 hours..
Garnish with fresh chives. Enjoy!.