Creamy garlic and butter mashed potatoes - Easy to do and Very moist even after warming up leftovers the next day!. Today I am sharing this Creamy garlic and butter mashed potatoes! A quick and easy dinner that is ready in under 20 minutes! These Garlic Mashed Potatoes made with roasted garlic and Yukon Gold potatoes are amazing in every way. Add the cream and butter and mash until the potatoes are the consistency you want. Do not over-beat them, or they potatoes will become gummy. Six garlic cloves and Parmesan cheese add savory depth to Alton Brown's Creamy Garlic Mashed Potatoes, from Good Eats on Food Network. Peel and dice potatoes, making sure all are relatively the same size.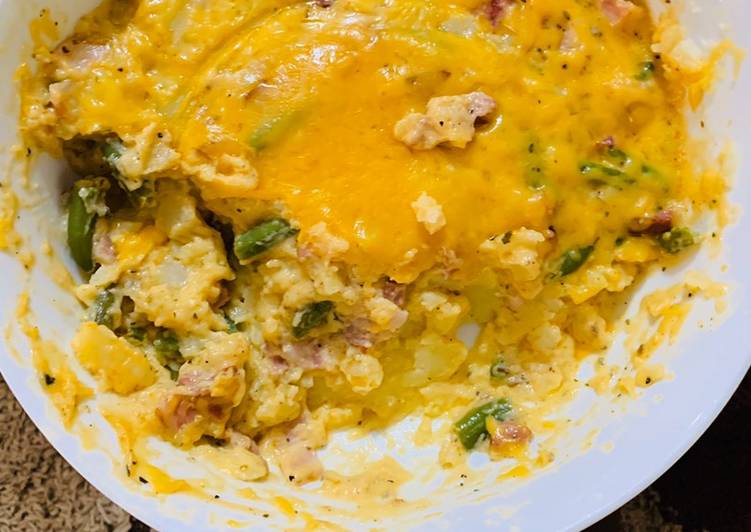 Place in a large saucepan, add the salt, and cover with water. These potatoes are full of creamy sour cream, cream cheese, and buttery goodness contrasted with rich roast garlic. The texture is as delightful as the flavor combination.
You can cook Creamy garlic and butter mashed potatoes with 9 Ingredients and 6 steps. See the following guide!
Ingredients for Creamy garlic and butter mashed potatoes:
5 potatoes (depending on the number of people you're serving for).
2 tbs crushed garlic.
Bacon.
Peas.
Gouda Cheese.
Salt.
Black pepper.
Cream.
Bacon and cheese sauce.
Everyone's been asking for a great garlic mashed potato recipe and here it is! A perfect side dish to go with dinner any day of the week! The perfect side dish for any occasion. Mashed potatoes are a regular indulgence around here including Ultimate Loaded Mashed Potatoes and Slow Cooker Mashed.
Step by step how to cook Creamy garlic and butter mashed potatoes:
Boil your potatoes until very well cooked.
In a separate pan fry your bacon.
Add the peas to the frying bacon.
Add the cream and cheese together with the sachet of bacon and cheese sauce.
Peel potatoes and mash.
Mix the bacon and cheese sauce to the mash.
This classic garlic mashed potatoes recipe is so creamy and fluffy. Yukon gold potatoes Vegan butter Roasted garlic (hubba. hubba) Sea Salt & Black Pepper. The result is super creamy, luxurious, dairy free mashed potatoes with a sweet garlic tone, plenty of S+P, and an herbaceous, light touch from the chives. Give me a spoon, I'm going in. Recipe: Slow Cooker Garlic Butter Mashed Potatoes.