Bacon-Garlic Marinated Potatoes - It was delicious !!!!! Easy to make and a crowd pleaser !!!. Today I am sharing this Bacon-Garlic Marinated Potatoes! A quick and easy dinner that is ready in under 15 minutes!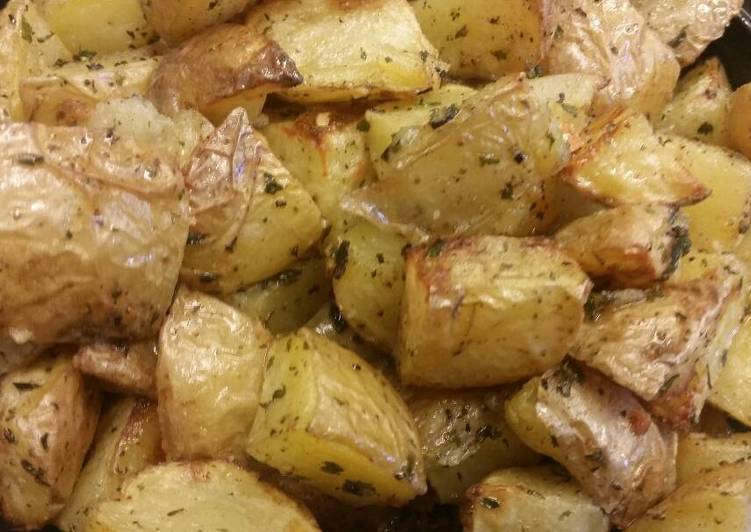 You can cook Bacon-Garlic Marinated Potatoes with 5 Ingredients and 6 steps. See the following guide!
Ingredients for Bacon-Garlic Marinated Potatoes:
3 lb Yukon gold potatoes; quatered.
8 cloves garlic; slivered.
1 package bacon.
1 lemon; zested & juiced.
1 T fresh sage; minced.
Step by step how to cook Bacon-Garlic Marinated Potatoes:
Preheat oven to 350°. Lay bacon on a sheet tray lined with parchment paper. Bake for approximately 25 minutes or until bacon is crispy..
Reserve bacon for another use or serve as garnish minced atop potatoes..
Place garlic in a mixing bowl. Drain hot bacon fat over garlic. Let steep in bowl until slightly cooled, about 3 minutes. Add potatoes and sage. Toss. Let sit at room temperature for 1 hour to marinate..
Pour potatoes on to the baking tray used for bacon. Roast at 400º for approximately 20-25 minutes or until potatoes are caramelized and easily pierced with a paring knife..
Squeeze lemon juice over potatoes. Garnish with lemon zest..
Variations; Bell peppers, roasted bell peppers, pancetta, prosciutto, salami, capicola, pastrami, ham, pepperoni, sausage, oregano, zucchini, yellow squash, scallions, chives, cilantro, ginger, honey, lime, lemon, marjoram, mint, basil, parsely, coriander seed, ginger, rosemary, thyme, sage, carrots, white pepper, peppercorn melange, butter, brown butter, compound butters, tarragon, dill, asparagus, parmesean, romano, gruyere, parmigiano reggiano, pecorino, spinach, arugula, asiago, fontina, applewood seasoning.