Sinigang Na Bangus - It was delicious !!!!! Easy to make and a crowd pleaser !!!. Today I am sharing this Sinigang Na Bangus! A quick and easy dinner that is ready in under 20 minutes!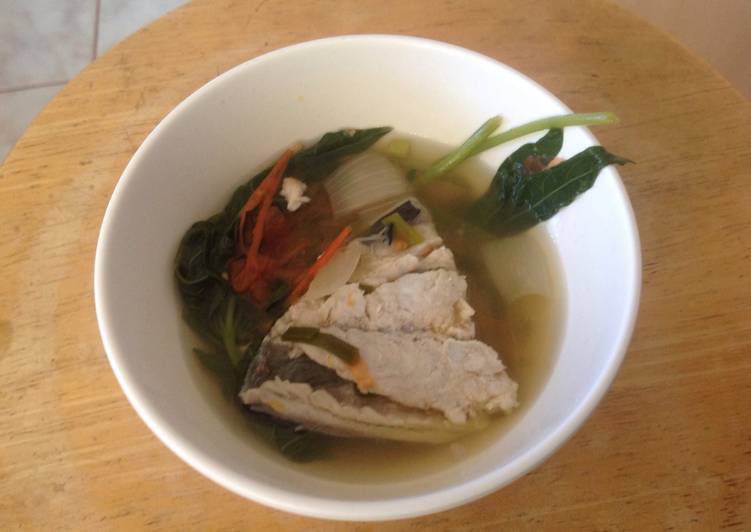 You can cook Sinigang Na Bangus with 15 Ingredients and 7 steps. See the following guide!
Ingredients for Sinigang Na Bangus:
Soup base.
1 Milk Fish (Bangus) - belly portion "boneless".
3 Ginger (3 fingers) - crushed.
2 Tomato - cut in quarters or eights.
1 bunch Green onion - chopped.
1 medium Onion - chopped or sliced.
1 Patis - 3-4 ladles.
1 4-5 pcs Calamansi fruit or Tamarind soup base mix. Add to taste..
Vegetables.
1 bunch Kamote (Sweet Potato Leaves).
1 White radish (Daikon) - sliced.
Optional Vegetables.
1 Eggplant.
1 bunch Ong Choy.
1 bunch Okra.
Step by step how to cook Sinigang Na Bangus:
Fill stock pot half way with water. (About 3 quarts).
Add vegetable ingredients of soup base and bring water to a boil..
Add about 3-4 ladle full of Patis. Or to taste before adding fish..
Add fish and boil for another 3 minutes or until fish is cooked (meat turns white)..
Add calamansi juice or tamarind soup mix..
Add more Patis to taste..
Add Kamote and radish..